DeAndre Wright is a singer-songwriter born and raised in Houston, Texas.
With years of experience as a performer and her roots in gospel, DeAndre is known to give audiences depth and authenticity with every beat, lyric, and sound. "I'm a writer to the core and I really had to accept that. Once I did, it changed my life. I can finally give people the real me. I can truly speak to who I am and what we (as a people) experience in life. It's given me great joy and freedom."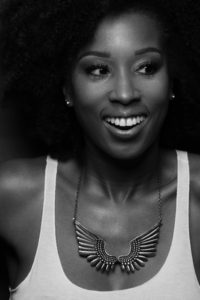 Soulful, quirky, fresh, and vibrant have all been words used to describe this unique songstress. She's a force to be reckoned with on stage and describes her live performances as liberating. Audience members hang on to every lyric she sings and characterize her voice as being simply "beautiful".
Wright's influences cross many genre lines. She credits classic artists such as Tina Turner, The Jacksons, Prince, Madonna, and Whitney Houston as well as contemporaries like Sia, Janelle Monae, Bruno Mars, Mura Masa, Haim and Solange for inspiring her.
Penning her way through different productions, Wright has worked with an eclectic group of producers ranging from the up and coming to the Grammy Award-winning. "I love creating with different producers because I can feed off of their energy and always come up something different. It's always a challenge and so much dog-on fun!"
Currently, DeAndre is working in the studio to create her next anticipated project. "I'm so ready to pump out the music I've been working on. With the climate of the world and stepping more into womanhood, I have SO much perspective to share and can't wait to put it out for everyone to dig into."